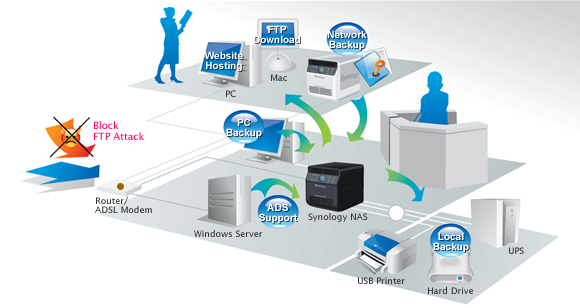 We all work in a dynamic work environment, with more reliance on mobile computers. Today doctors, lawyers and company directors using mobile devices like iPads to work with their patients, clients and share corporate information. Mobile computing devices like these allow professionals to work from the field, or in a remote office. Sharing data amongst mobile users is the key to successful team work. The demand for an easy-to-maintain server is becoming more important. Such a server (NAS device) becomes a mini-data center for a team work. The need to keep important files safe is also a rising concern as mobile data is at a higher risk of being damaged or stolen. Synology storage server products (Disk Stations, Cube Stations, and Rack Stations) are designed to meets such demands. They are easy to use and once it is setup, very little IT resources are required to maintain it.
Computer users often forget to perform data backups, or simply don't backup because the backup process necessitates extra devices or requires too much user intervention. Synology offers many ways including, Data Replicator a free-license PC backup software, which will back up all of the user documents every time the computer is connected to the network, without the need for manual backups. Once Data Replicator is installed and setup on the computer, computer users will never forget to backup again.
The data on Synology Servers need to be protected as well. Synology Servers offer disk mirroring RAID1 and space-efficient RAID5 for redundant disk protection. If a disk is damaged, the Synology Server can continue functioning without data loss.
Synology Servers also support remote data backup allowing small businesses to backup files from one place to another. This is a great way to keep data safe from catastrophic disasters, such as fire, flood, or burglary. This function used to be available for enterprise-class IT departments only, and now Synology Servers offer this ability for small businesses with minimal IT resources involved.
Synology Servers offer a wide range of protocols for accessing data. Synology servers support the popular Macintosh AFP network protocol, including AFP Login; this allows PC and Mac users to share their data in a manner which is familiar to them. Its built-in FTP server functions and Web-based file managers allow teamwork in a widely distributed environment.