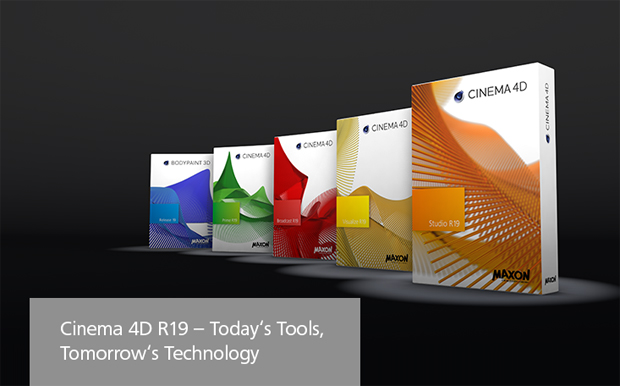 Cinema 4D Creation Experiences
Cinema 4D Release 19.




Cinema 4D R19 Feature Highlights
Select the package that suits your requirements :
CINEMA 4D Prime
's intuitive interface is designed to ease you in to the powerful and exciting world of 3D graphics. With CINEMA 4D Prime you can start creating great-looking 3D images only hours after getting to know the application. Also, the included tutorials make understanding CINEMA 4D quick and easy.
CINEMA 4D Broadcast
contains all the features of CINEMA 4D Prime as well as specific tools for creating motion graphics, including industry-leading cloning tools, advanced rendering options such as global illumination, a high-end library packed with 3D models, cameras, lighting setups, video clips, and much more.
CINEMA 4D Visualize
gives you a comprehensive suite of modeling and texturing tools and rendering options. Features like Global Illumination, Physical Sky, sketch-style rendering and huge librairies of 3D scene fillers, textures, lighting environments, and much more.
As well as containing all of the features found in CINEMA 4D Prime, Visualize and Broadcast,
CINEMA 4D Studio
adds advanced character tools, hair, a physics engine and an unlimited clients network for rendering. The result is that CINEMA 4D Studio can tackle any project you throw at it with ease.
or Call 02 9939 4000
for more details.