3D design software for Modeling and Rendering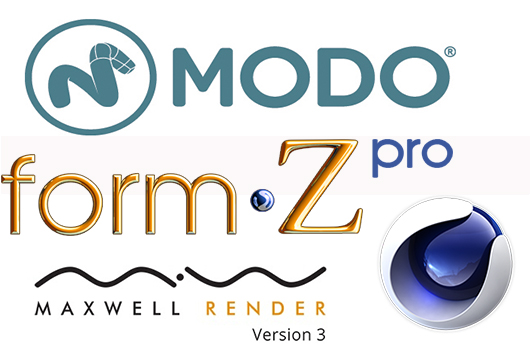 3D design software is now dramatically easier and more powerful a design tool than ever before and continues to evolve so that designers can conceptualise any design and then have it created as a 3D rendered image on a screen or for print for later sale or manufacture from familiar format accurate drawings created by the software or directly by modern 3D printers.
Our software offered includes:
Cinema4D
is the basic package that provides all the requirements of modern 3D modeling, rendering and animation with the C4D intuitive interface and a huge range of capabilities and tools.
is everything that exists in Prime but is oriented to the motion graphics designer with specific tools for creating motion graphics, including cloning tools, advanced rendering options such as global illumination, a high-end library packed with 3D models, cameras, lighting setups, video clips, and much more
is everything that exists in Prime but is designed for the professional imaging and conceptualisation for architects, product designers and engineers and includes a comprehensive suite of modeling and texturing tools and rendering options. Features like Global Illumination, Physical Sky, sketch-style rendering and huge librairies of 3D scene fillers, textures, lighting environments. It also allows for interface and import to a huge range of 2D and 3D applications, such as many leading 3D CAD applications such as VectorWorks, ArchiCAD and Allplan.
Is the most extensive package and includes every module available for C4D it contains all of the features found in CINEMA 4D Prime, Visualize and Broadcast, CINEMA 4D Studio adds many new advanced character tools, hair, instancing and cloning tools, a physics engine and an unlimited clients network for rendering.
Danceforms
available for Mac (including Mac OS X 10.7+) or Windows (including Windows 7+) this package is designed for choreography and dance design and visualisation. Danceforms is designed for dance teachers and choreographers. DanceForms 2 inspires you to visualize and chronicle dance steps or entire routines in an easy-to-use 3D environment.
formZ
formz
is powerful solid and surface 3D modeller with a modern easy to learn new interface. It offers a powereful range of parametric and nurbs based tools for accurate design modeling that integrated with it's own drafting system and with external rendering packages such as RenderZone or Maxwell Render can produce magically realistic images and animations of any potential design. It also supports output to 3D printers such as the ZCorp or Up 3D Printer for Rapid Prototyping
is the same formZ package with an integrated renderer for high quality photorealistic Global Illumination based renders or animations
Lifeforms
Is the best 3D Rendering software package and works with many other 3D packages for producing the highest quality images and animations from a package that emulates the way light behaves in the real world. It is used by architects, product designers and VFX professionals in video compositing programs among many others.